The Consulate of Switzerland, Swissnex in Japan is proud to announce the upcoming Aging Forum on Health, Loneliness, and Poverty faced by the elderly in our society. Join us on April 19 as we delve into an important discussion about these challenges providing Swiss and Japanese insights.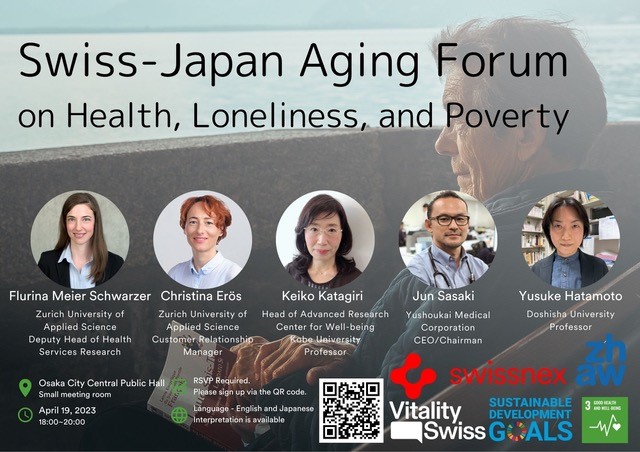 We are delighted to host two distinguished ZHAW Zurich University of Applied Sciences sabbaticals, Ms. Flurina Meier Schwarzer and Ms. Christina Erös, who will share their insights and experiences. Alongside them, we have the privilege of welcoming esteemed Japanese experts, Dr. Jun Sasaki, Yushoukai Medical Corporation, Prof. Keiko Katagiri, Head of Advanced Research Center for Well-being, Kobe University, and Mr. Yusuke Hatamoto, Doshisha University. These experts will share their insights from the Swiss and Japanese sides, from both the research and practical point of view.
We look forward to your participation in this thought-provoking discussion that will explore ways to tackle health, loneliness and poverty at an older age. Register now and become a part of this important conversation!
Event: Aging Forum on Health, Loneliness, and Poverty
Time: Wed, April 19, 18:00 - 20:00
Venue: Osaka City Central Public Hall
Language: English and Japanese
Registration: https://lnkd.in/dkkKWP7H
(Exclusive event, registration is required – limited capacity)