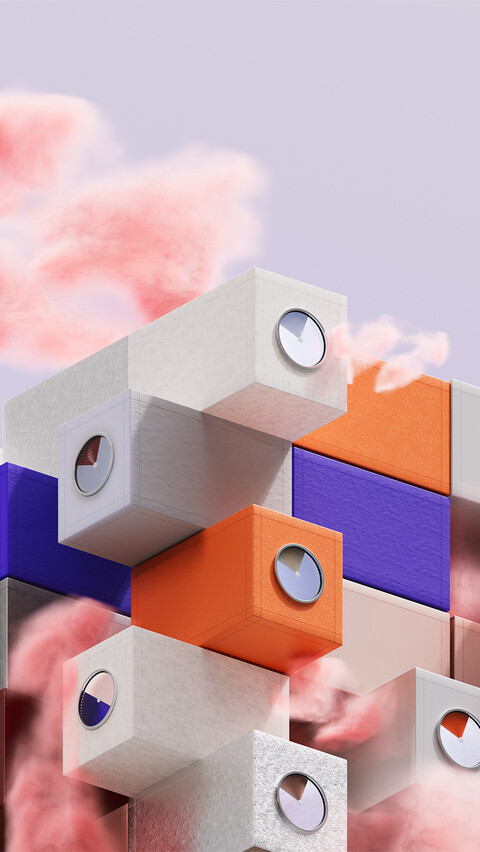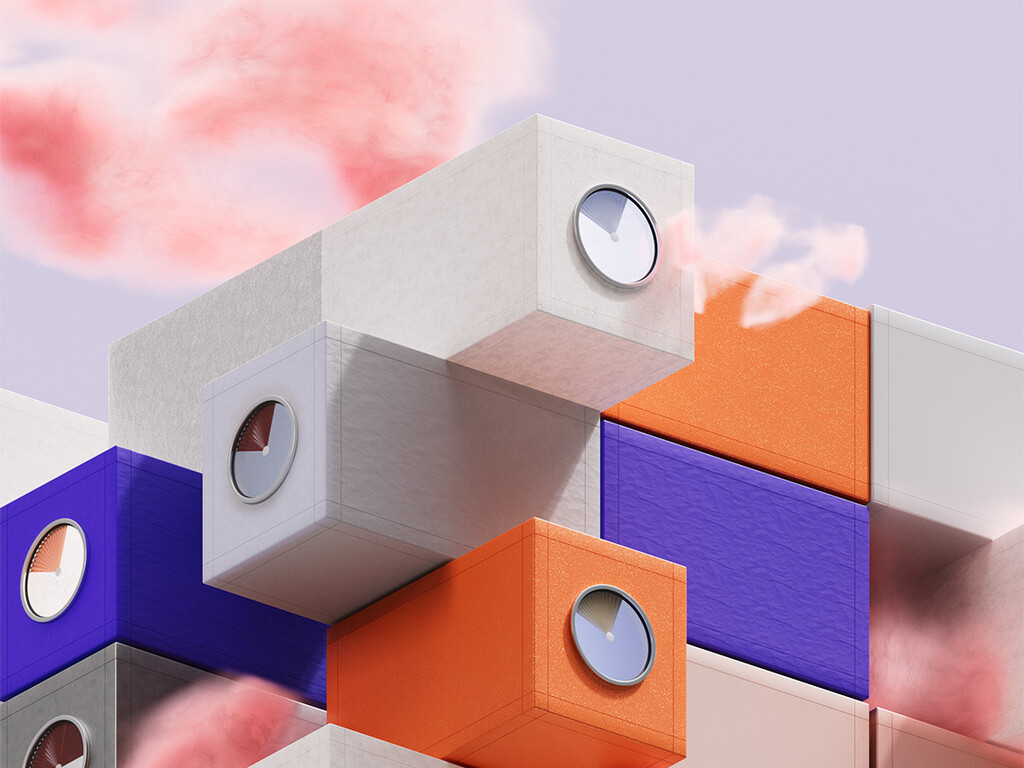 Creative duo Get It Studio imagines the afterlife of iconic Nagakin Capsule Tower
Swiss Vitality Interview: Creative duo Get It Studio - 1
During their residency in Tokyo, Lausanne-based Sandra Golay and Alexandre Armand have leveraged digital art and motion graphics to celebrate Kisho Kurokawa's landmark building. Their work fuses colourful narratives to make the legacy of Nakagin more sustainable.       
Sandra and Alexandre, can you tell us a bit about yourselves? 
Get It Studio
We are Sandra Golay and Alexandre Armand, a Swiss Creative Duo. Five years ago we founded Get It Studio, dedicated to producing cutting-edge visual and motion content. Currently, our creative vision is focused on creating meaningful computer-generated images and communication.
Where does your passion for Japan come from?
Get It Studio
Japan is in our hearts and creative minds since 2004, when Alexandre, as a young aspiring Interactive Media Designer, was invited by TV channel NHK to appear and participate in their TV show. Since then, we travelled to Japan at every opportunity, totalling 9 visits to this day. Our passion for Japan ranges from food and traditional arts to human interaction and architecture, and remains an endless source of inspiration and fascination which never ceases to inform our art.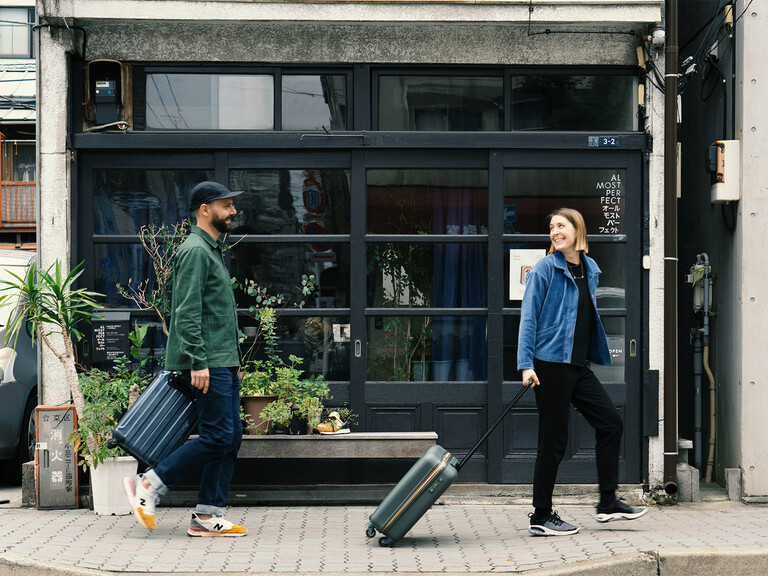 How was this project born?
Get It Studio
In April 2022, we came across an Instagram post from Almost Perfect Art Residency in Tokyo. They were now accepting applications from overseas artists. Founded in October 2018, Almost Perfect is essentially a short-term residency program for foreign creatives who want to come to Japan to learn, be inspired, and display their work. 

On the same day, we also learned with great sadness about the Nakagin Capsule Tower's imminent dismantlement and destruction. This amazing building has always stimulated and fed our imagination. It embodies a retro-futuristic vision of the world whose multiple iterations found their way onto our TV screens in the last millennial and made a permanent mark on dystopian and sci-fi cinematography. As such, its importance goes beyond its conceptual structure and despite its removal from metropolitan Tokyo, it deserves to be celebrated. 

We decided to apply to Almost Perfect with a Visual Art project about the Nakagin Capsule Tower. At this point, our idea was still pretty vague but the residency organizers loved our concept and they selected us to come to Japan in June 2022. The end goal of the residency was an exhibition in their gallery from June 25th to June 28th. 
The Nakagin capsule tower had become a landmark of Tokyo's skyline… 
Get It Studio
Built in the Ginza area of Tokyo, the Nakagin capsule tower, designed by Kisho Kurokawa was representative of the architectural ideas of Metabolism. Comprised of two interconnected towers and 140 capsule apartments, it sought to embody ideas of flexibility and adapt to a constantly changing society.  

The capsules were the original micro-apartments, an ancestor to today's capsule hotels, and a forebear of the shared, temporary spaces of Airbnb. "In the future, the space and tools for free movement will be the status symbols," Kurokawa wrote. He had conceived the building as a metaphor for an organic structure with renovation and evolution capabilities with the idea of replacing the capsules every 20-25 years. 

In practice, the concept execution ended up being more problematic. The tower's inhabitants realised that to replace a single capsule, it was necessary to remove all the capsules on top of it. Coordinating something like this with the row neighbours proved to be so complicated that not a single capsule was renovated according to plan.  

As a result, lack of maintenance combined with the wear and tear of time turned the utopian dream into a nightmare. Moisture and leaks are frequent problems in all units. During its last few years, around 40 capsules were still inhabited, while a similar number of others were being used as offices. Most of its users were artists or architects, but there were also professionals of all kinds. 
How did you frame your work around this iconic building that has now disappeared?
Get It Studio
To find original ideas for this project we asked ourselves, what has and will become of the recent and current tenants of the Nakagin Capsule Tower? What of their habitat and what of our imagination and the dreams we had and still have in regards to the Metabolism Architectural Movement? How could the Nakagin Capsule Tower evolve into a new digital state? Our intention was to capture this moment in time and develop an artistic project that asks these questions to whoever will take a moment to contemplate our interpretation. Let the spectator decide for herself what we have gained and lost with the disappearance of this architectural and cultural landmark.
Tell us what you found out about the Nakagin Capsule Tower…
Get It Studio
At the beginning of our stay, we had the chance to meet Yuka Yoshida and Mari Sakai from Showcase Tokyo. They were the official and only accredited tour guides allowed to take guests inside the tower. Thanks to them we learned a lot about the Nakagin. We were particularly inspired by the stories they told us about everyday life in the tower.  

There was for instance this story about a young woman who tried to capture the specific smell of the tower in aluminum cans. She actually came to see our exhibition and by luck, we engaged in a conversation and asked if she wanted any explanations. Once in front of this specific image, she started laughing, saying that it was her who tried to capture the smell. What an extraordinary encounter! We gave her a copy of the image as a gift. She came back to the gallery the next day to offer us two cans of her actual project. 

There was also the story of water leaks and tenants running around with plastic bags to collect the water. Or the students who, to eat in the capsule without a kitchen, had to settle for Cup Noodles. All these stories have fed our imagination and our creativity. We have also developed our own images based on our positive and colorful vision of this tower.
The tower is gone, yet your work is much more about celebration than nostalgia. Why is that?
Get It Studio
We can say that in an increasing anxiety-inducing climate, we feel an irrational need for optimism and we evolve towards new aesthetics, stranger and more fanciful than ever. But rather than rejecting the codes of a past era, we tap into its foundations to rekindle the euphoria and fantasy that the present lacks. When we forget gravity and the limits of reality, it creates a dreamlike and fantasy look that prioritizes emotion over function and transforms contemporary pieces into hyper photogenic graphic compositions.