Japan premiere exhibition by Swiss industrial designer Carlo Clopath from November 17 to December 3, 2023. Following a three-month residency in Arita learning from local ceramic artisans, Clopath unveils on November 16 at 18:00 at (PLACE) by method in Shibuya "The Beautiful Act: Ornament as ecological gesture", an exploration of ornamental symbols, their meaning and their relation to nature through decorated porcelain tableware and other Japanese artefacts.
The Embassy of Switzerland in Japan is pleased to present "The Beautiful Act: Ornament as ecological gesture," an exhibition by Swiss industrial designer Carlo Clopath. The exhibition showcases a collection of decorated porcelain tableware, the result of Carlo Clopath's three-month stay at the Creative Residency Arita from January to March 2023 where he worked closely with RISO porcelain "Risogama."
In his works, Clopath delves into the origin, meaning and function of symbols, stemming from an examination of selected Japanese artefacts from Jomon to Pop Culture. He focuses in particular on spirals and their diverse interpretations, inviting the viewers to reconnect with nature and the immaterial.
By illustrating the value of ornamentation as an impetus for ecological action, the exhibition seeks to stimulate reflections on environmental sustainability. Clopath hopes to remind the viewers that beings, including human beings, are an integral part of Earth's natural living system – with limited living resources. Nature is not a mere resource but a living self, and as such the rational actions of human beings should be respectful and sustainable.
The beautiful act Ornament as ecological gesture by Carlo Clopath
Period : November 17 – December 3          Open time 11:00 – 19:00
Opening: November 16 at 18.00
Venue:  (PLACE) by method (#14, 1-3-1 Higashi, Shibuya-ku, Tokyo, Japan, 150-0011)

Organized by Embassy of Switzerland in Japan / Vitality.Swiss
Supported by USM U. Schaerer Sons K.K., Création Baumann Japan Ltd., Sakae Stünzi Foundation
In collaboration with Creative Residency Arita, RISO Porcelain,Ltd., method Inc., The Swiss Arts Council Pro Helvetia, Tama Art University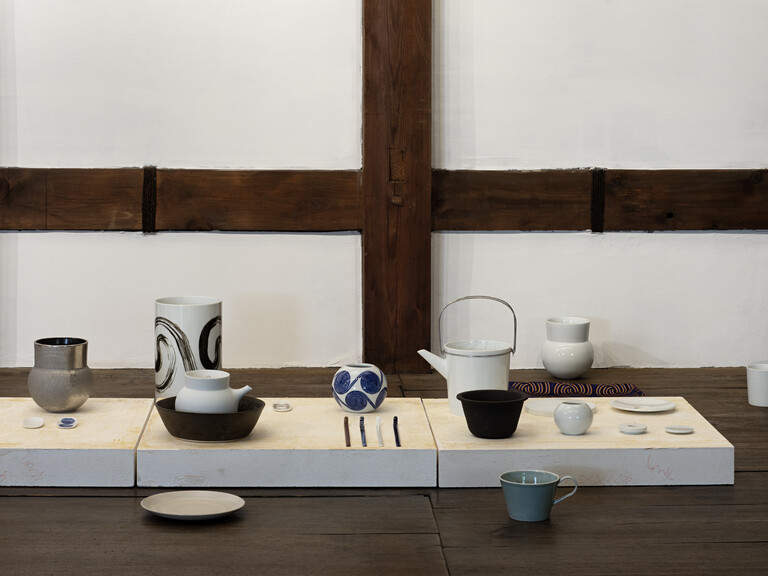 Context: Creative Residency Arita program
Carlo Clopath's journey began in January 2023 when he participated in the Creative Residency Arita program in Arita Town, Saga Prefecture, focusing on porcelain. The residency aims to foster collaboration between international artists and Saga craftsmen, contributing to the region's revitalization and sustainability. During his three-month stay, Clopath immersed himself in the 400-year history of Arita porcelain and its development to present day, deepening his understanding of ornamentation on everyday utensils.
At the initiative of Vitality.Swiss, a public diplomacy program of the Embassy of Switzerland in Japan, a professional jury was assembled, comprising design and artistic director David Glaettli, BIG-GAME Industrial Design Studio and architect Heinz Caflisch. They selected Carlo Clopath out of several dozens of applications.
More about the program: here
About the Exhibits – Tea drinking as an everyday ritual
Collaborating closely with RISO porcelain "Risogama", Clopath has been concentrating on contemporary everyday rituals and their related items – in particular, on tea drinking. Based thereon, he has developed a collection of 21 oriental and occidental tea vessels and utensils. The forms of the various objects are based on simple, archaic shapes – spheres and cylinders or combinations of the two. Spiral ornaments of diverse origins adorn several utilitarian objects, adding layers of meaning and a link between society and nature.
Designer's reflection
Through the idea of beauty or the beautiful act (a moral act – performed by one's own inclination to do so), the exhibition aims to offer access to the intangible, the inaccessible, the fantastic – to a mysterious reality: a world animated by elemental spirits – spirits of the earth, air, water and fire – graspable through beauty, myths and rituals.
For Carlo Clopath, these elemental spirits that come and go cyclically are connected to the seasons, and to a sense of beauty – his interpretation finds resonance in Japan where the ephemeral is an ideal of Japanese aesthetics.
Thus Clopath has chosen to focus on the tea ceremony, a ritual of concentrated beauty, which embodies asceticism and offers a transcendent experience, drawing parallels to myths and shamanism in a distinctively Japanese and Buddhist manner.
In addition to the porcelain tea ceremony utensils that Clopath created in Arita, the exhibition also illustrates his reflections on the origins, meanings, and functions of symbols – particularly of the spiral. In his research, Clopath explores the presence of spirals in prehistoric cultures around the world and attempts to explain their origins (observation of nature, hallucinations as a result of drugs or meditation, endogenous image patterns), meanings and functions. The spiral can symbolize cyclical time, recurring seasons, the return of earth and water spirits during spring and autumn harvest celebrations, water's spirit guardian – the serpent, etc. Clopath will be tracing the history of the ornament – especially of the spiral – by means of Japanese artefacts from Jomon period pop culture. Carlo was particularly inspired by the philosophy of Soetsu Yanagi, the founder of the Mingei movement, and his idea that patterns and symbols have an important role in how society relates to nature and the environment.
"Prior to my departure to Japan, I attempted to understand the history of porcelain production in Arita by studying antiques on auction platforms. Thereby I noticed – not very surprisingly – the four hundred years of persistent use of blue Gosu on white porcelain: I realised that – if I wished to approach the essence of Arita porcelain and wanted to make full use of the local craftsmen skills – I would not get around decorating my utilitarian objects. 
This thought simultaneously provoked deep discomfort but also great curiosity within me. I felt uncomfortable because I had never worked with ornamentation before – I had never learned to do so. On the contrary, I had learned, that ornamentation was (at best) useless. However, this ambivalent feeling – all those craftsmen couldn't have been wrong after all – tempted me to study in depth the roughly 20,000 years of ceramic history and its continuing use of decoration. Encouraged by a thought of Soetsu Yanagi, who wrote in his book The Unknown Craftsman, that a society without patterns cannot have a relationship with or understanding for nature, I came to the realization that these symbols are not solely beautiful but also have a distinct cultural function – embodying their respective worldview and conveying behavioural rules therein. In the present context – the loss of the symbol and the concomitant loss of the living, in other word water scarcity, declining biodiversity, species extinction which further the environmental crisis – an exploration on the origin and function of symbols, seemed significant. 
I decided to focus on the spiral during my research, with the idea of the spiral as a primal and universal pattern, appearing in prehistoric times in several or all regions and cultures of the world around similar moments: as an intuitive description of their environment respectively the cosmos – as an illustration of cyclic life, movement and growth or as an unconscious representation of galaxies, fluids and our DNA."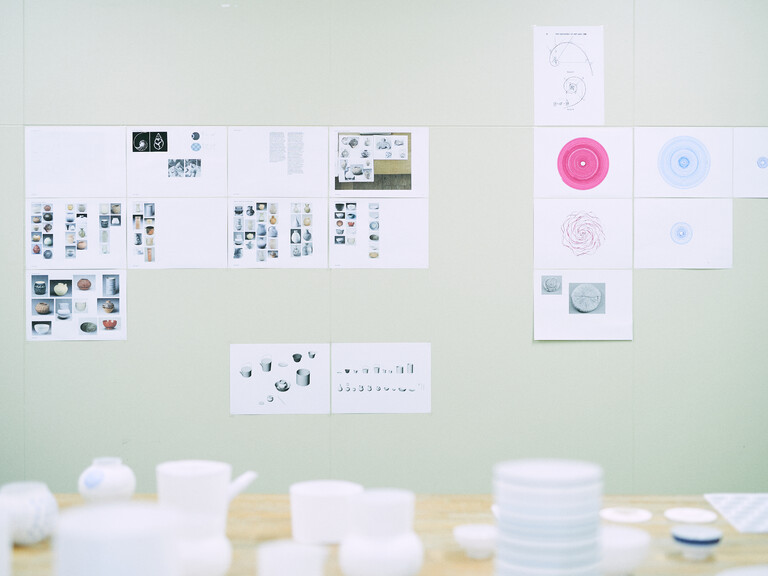 Carlo Clopath is a Swiss industrial designer. In his studio in the Alps, he develops everyday objects and utensils – in close collaboration with local craftsmen, with   international manufacturers or in cooperation with   various research institutions – mainly in Europe, Japan or North America. His creations ideally condense tradition and innovation into a calm, evident, familiar product. During the development, the idea, the material and the craft (technology) are tested and observed in countless experiments, in order to push the material, process and quality to their limits.
After his education – following the Swiss tradition – based on precision and innovation at the ECAL/University of Art and Design in Lausanne (CH), he experienced the Scandinavian method based on craftsmanship and the fluid line (of the drawing) at the office of Cecilie Manz in Copenhagen (DK) from 2012 to 2013. Subsequently, during a residency at the Statens Værksteder for Kunst (Danish Art Workshops) in Copenhagen (DK), he was able to realize his first truly personal project: a series of kitchen utensils made of wood, porcelain, urushi – which won the Swiss Federal Design Award the following year and enabled him to participate in his first exhibition (Showcase) in Tokyo (JP).
Since this first, intensive experience of Japanese culture, he has, fortunately, had the opportunity to work with various Japanese craftsmen and manufacturers and to participate in multiple exhibitions in Japan. His work has been exhibited at the Designmuseum Danmark in Copenhagen (DK), during the Salone del Mobile in Milan (IT) or the Tokyo Design Week in Tokyo (JP). Recently he won the Swiss Design Awards 2023 as Borgmann & Clopath (in June 2023) for a wooden furniture collection. Designed by Carlo Clopath, SARO, a new flatware collection of Fukui based company Sekisaka Co., Ltd. has been released in June 2023 and has just been awarded a (Japanese) Good Design Award 2023 .
About the Japanese Partner – RISO porcelain / 李荘窯業所
One of the most popular Arita-yaki potteries. Led by the fourth generation head of Shinji Terauchi. Their products are acknowledged as being well-designed and made with highly skilled techniques and this has led to collaborations with famous chefs and restaurants. 
Documentary film "ARITA - In a land of Terra" by Kohei Yamaguchi
Episode 1
Episode 2
Episode 3