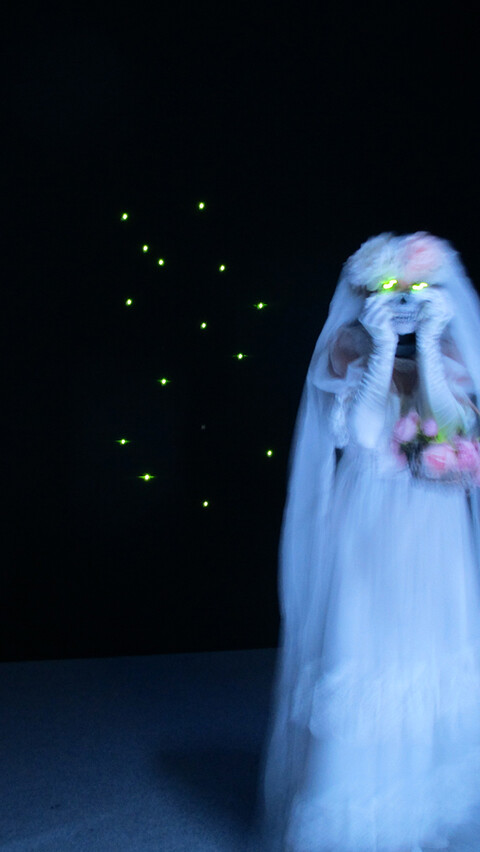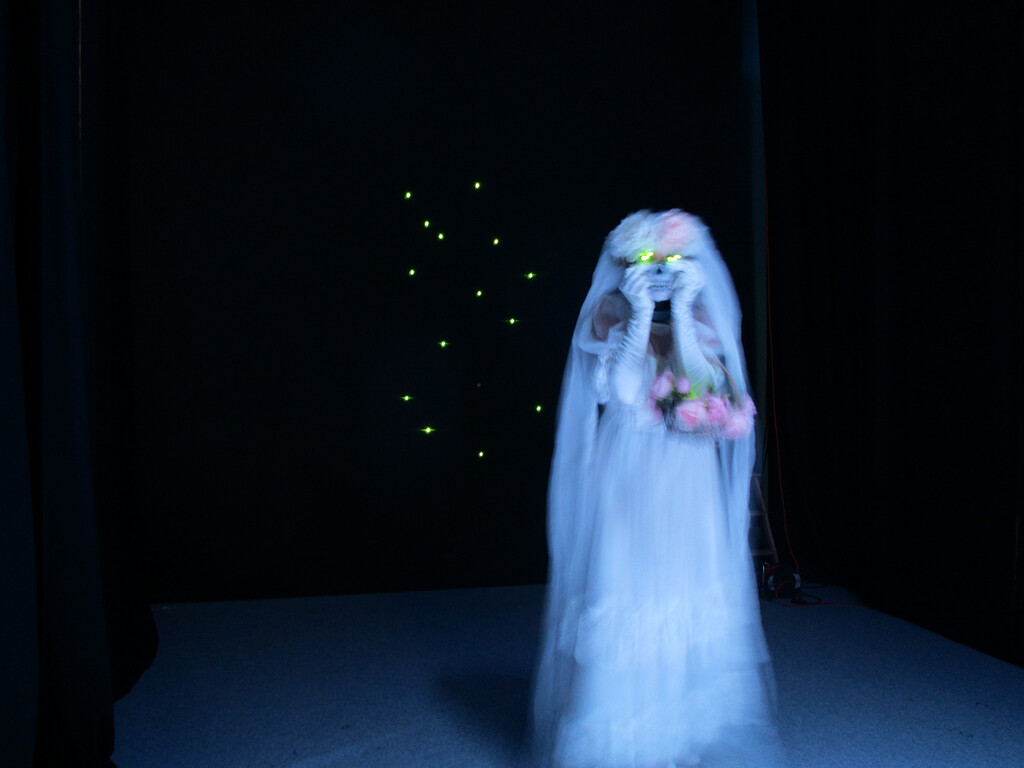 Sophie Guyot "Dancing With Kaoru And My-other-self"
Project for Nakanojo Biennale 2023 - Relationship between humans and their biotope
Swiss contemporary artist, Sophie Guyot often addresses environmental themes, treated as metaphors for the general state of humanity. Let's ask her what kind of world she is creating with her new project "Dancing With Kaoru And My-other-self" in response to the theme of Nakanojo Biennale 2023 "Cosmographia".
Upon completing her studies in Literature at the University of Lausanne, Sophie Guyot took up visual art in self-taught fashion. Light(ing) has proved to be her favorite material. Her approach has a down-to-earth poetic slant to it, and it is concrete factors —her contact with a material, her relationship with the site to be addressed—that give rise to both her desire and design. This summer, she will present her new work " Dancing With Kaoru And My-other-self " at the Nakanojo Biennale 2023.
NAKANOJO BIENNALE 2023 Cosmographia – Tracing the Invisible Land
The Nakanojo Biennale is an international contemporary art festival held every two years in Nakanojo Town, Gunma Prefecture, and it celebrates its 9th edition this summer. Artists stay and work in this unique mountain village community where nature and human coexist in harmony that has been maintained from generation to generation. The artist's creations will be presented during the Nakanojo Biennale.
General Director of NAKANOJO BIENNALE 2023, Tetsuo Yamashige
Cosmographia, the theme of Nakanojo Biennale 2023, is the title of an encyclopedic geographical book published in the 16th th century by the German cartographer Sebastian Münster, covering the peoples, manners, customs, history, and religions of the world. Before the invention of airplanes, most world maps were drawn from imagination, and he envisioned the unseen world and created beautiful prints. Today, in the 21st century, we can know what is happening around the world daily , but on the other hand, there are many things that we cannot see because the overflow of information covers them. [read more]
"Dancing With Kaoru And My-other-self" a project by Sophie Guyot
With the project "Dancing With Kaoru And My-other-self", Guyot aims to create cross-cultural and cross-generational links through a meeting between two women: Kaoru Saiki, a retired woman living in Nakanojo, and herself, a visual artist born and living in Switzerland for over 50 years.
Ms. Saiki brings to the project her knowledge of Ondo, a very popular Japanese dance, and she will try to teach Ms. Guyot the basics in a few zoom sessions. On the other hand, Ms. Guyot puts on a costume that has already been used for a series of performances in the past, putting herself back into the skin of a character who has gradually become a sort of alter ego.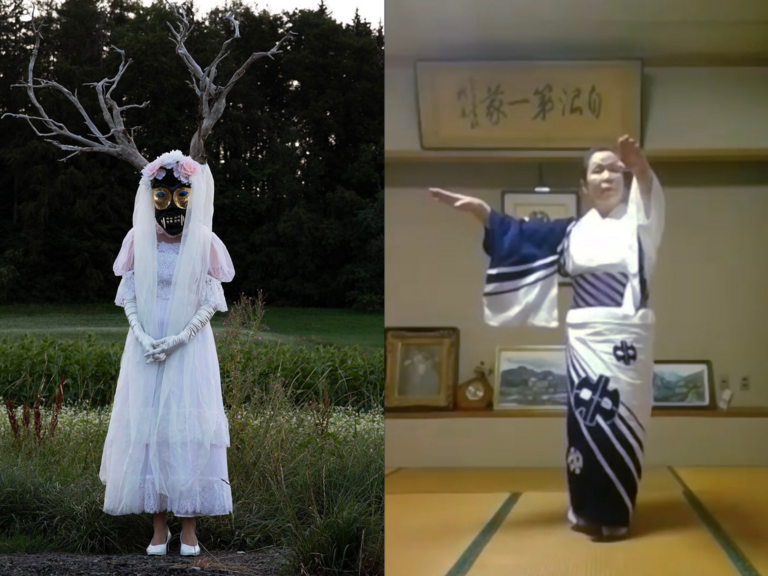 For this occasion, she has been given a mask that in some ways recalls the masks of the Lötschental. In these mountains of central Switzerland, the Tschägättä are characters who appear in February during Carnival and frighten passers-by. "This is an age-old tradition whose origins are still a mystery. The small town of Nakanojo is also located in a mountainous region, deep in the province of Gunma." says Ms. Guyot.
More about Tschägättä: Living Traditions in Switzerland
As in Switzerland, the relationship with the mountains is very strong and forms part of the collective imagination.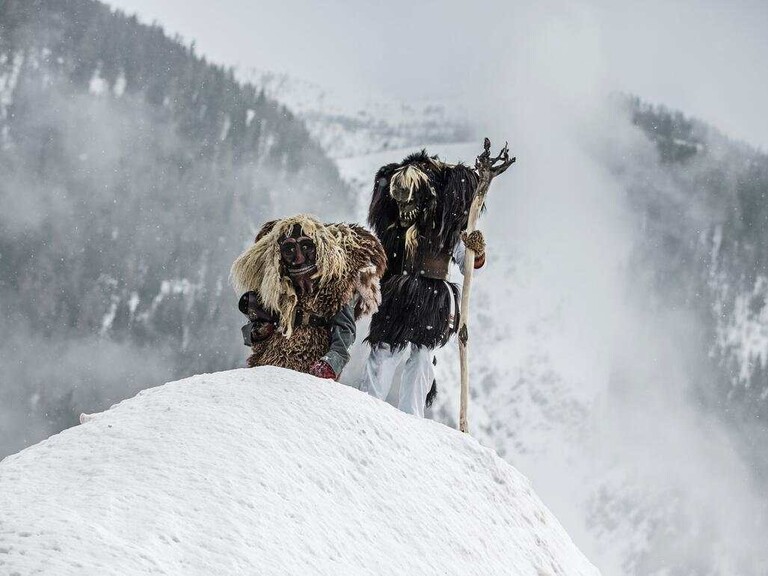 Huge horns made from tree roots will be attached to the mask. The idea, which originated in a series of holiday photographs, stems from an observation: the attributes of power, such as a crown, are designed to command respect. Paradoxically, at the same time, these objects can be cumbersome and heavy, putting their bearer in a situation of discomfort, even physical vulnerability, says Ms. Guyot.
"They are only protected from physical vulnerability by the respect they command from their subjects. Queen Elizabeth II herself said in an interview that when she was enthroned, her crown was so heavy that any false move could have broken her neck.
While these huge horns will give my character the majesty of a deer, they will also hamper my mobility and alter my balance, making it difficult to perform the dance movements Kaoru requires. So, I'll have to juggle two demands: the physical one, of my own limitations, and the psychological one, of my desire to imitate Kaoru."
She emphasizes that her ambition with this project is to take a step in the direction of others and to understand, through her own experience, how cultural exchanges can create links beyond the tourist clichés of Japanese dance and Tschägättä.
"I'm a complete novice when it comes to Japanese culture. To bring my project to fruition, I'm going to have to surround myself with resourceful people here in Switzerland (Ayako Burkhard, translator, and Tessa Gerster, a Swiss friend who loves Kyudo and Japanese culture) and in Nakanojo (Suzuka Kishimoto, who is in charge of producing the works for the Biennale, and Tetsuo Yamashige, General Director of the Biennale)."
Artistic collaboration with Kaoru Saiki thus requires the networking of more than half a dozen people on both sides of the globe, helping to weave invisible threads between two women of different generations, living in two distant parts of the world with their own ways of thinking and acting.
We encourage you to visit the Nakanojo Biennale 2023 to see how Sophie Guyot's "Dancing With Kaoru And My-other-self" will actually be exhibited!
NAKANOJO BIENNALE 2023
Period: September 9 - October 9, 2023
Location: Five areas of Nakanojo Town of Gunma Prefecture
More information: NAKANOJO BIENNALE 2023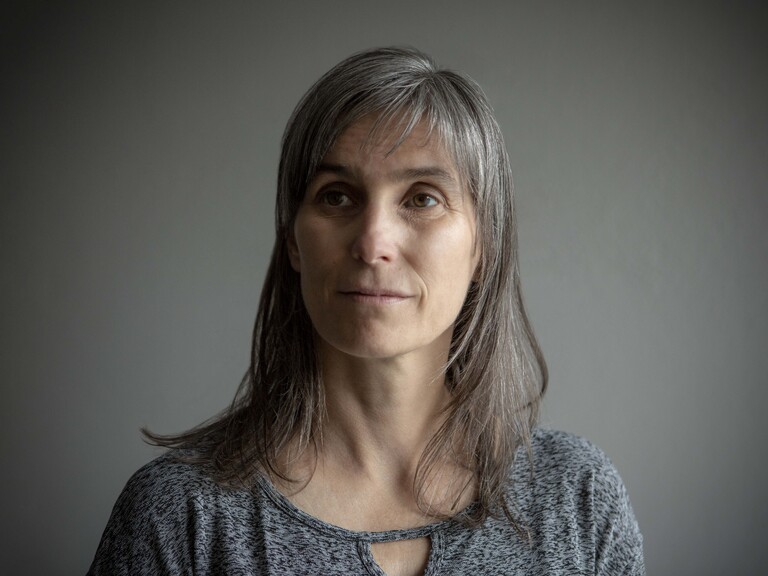 Sophie Guyot, Visual Artist
Her last project were "The Meaning of Meaning", in Svetlobna Gverila Festival (Ljubljana, SLO). She also conceived "H-U-M-A-N-?", a reflexion on the state of humanity on the face of Teatro Sociale in Como (IT). She took part to "Sense of Place", a collective exhibition in Elmhurst Art Museum, Chicago (USA), and to Land Art Mongolia (MNG) in 2018 with her light installation "Tsogio? – Canter? – Galop?". Sophie also works on public space installations: in 2013 she designed the permanent art installation on Theatre Arsenic in Lausanne (CH), she is preparing another permanent light installation ("Wunderbaum") on the public school in the new Plaines du Loup eco-neighbourhood in Lausanne (CH). She will present a video installation "dancing with kaoru and my other-self" at Nakanojo biennale from 09.09 – 09.10.2023.
https://www.sophieguyot.ch/
Story's cover:
From "In Trust I Trust", a performance by Sophie Guyot