With 65,000km of trails all over the country, it is not surprising that aside from cycling, hiking and mountain biking are some of the most popular leisure sports in Switzerland. Recently with the temporary closure of fitness centres during the pandemic, many Swiss have turned to one that is always open 24/7 - nature fitness trails.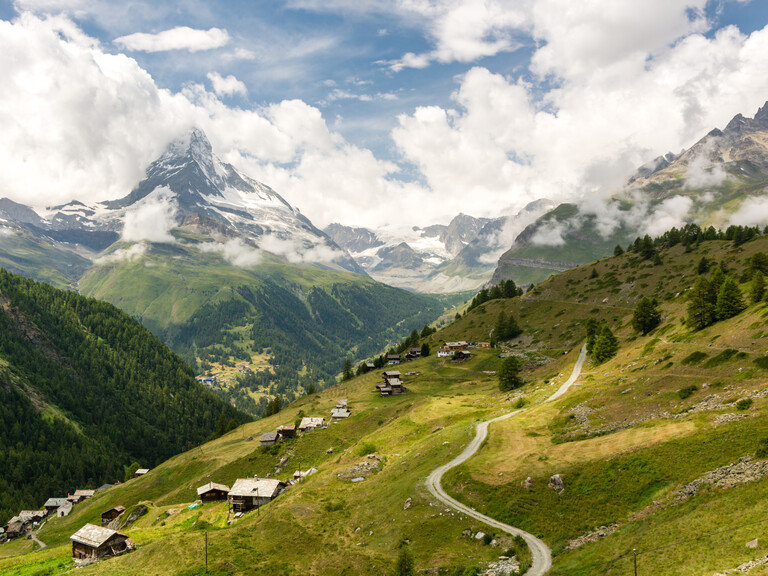 From paths close to cities to cultural routes along lakes and trails leading to mountain peaks, hiking in Switzerland is always a unique experience. Its appeal lies not only in the variety of the landscapes it crosses, but also in the care taken in maintaining, marking, and signposting the 65,000km long network of hiking trails criss-crossing the country. No wonder that hiking is the most popular sport in Switzerland.
Since 2013, the number of hiking enthusiasts has increased significantly, with 57% of the resident Swiss population aged 15 and over practicing it regularly. On average, hikers go on 15 walks per year, each lasting three hours, some of them even hike in the winter season. This means that the Swiss spend around 200 million hours walking each year. (Source: OFSPO)
Want to do more than just hike? Switzerland offers over 800 signposted fitness trails; sports enthusiasts can follow a route through the forest stopping along the way at multiple stations with exercise equipment. Promoting good health, encouraging social interactions, getting in touch with nature – signposted fitness trails are still quite relevant even 50 years on.
The first fitness trail was invented in 1968 by Swiss architect Erwin Weckemann with support from Swiss life insurance firm Vita, and in 1970 Switzerland celebrated its 50th trail. Today, there are still over 800 fitness trails all over the country. The routes are sponsored by two of the largest life insurance companies in Switzerland: Zurich Insurance Group has around 500 trails, known as Zurich parcoursvita, and Helsana Group has over 360 Helsana Trails.
Through these fitness trails, Switzerland wishes to promote regular activity as it keeps you fit and healthy: physical activity and sport in all its forms increase personal well-being and can reduce the risk of illness and accidents.
The 500 or so Zurich parcoursvita all over Swiss forests offer 15-station courses with a total of 43 exercises. Each station is different and has been adapted to the topographical conditions. The shortest courses are only a few hundred metres long. Other courses, however, can be more than 3km long or include a difference in altitude of more than 120m. The final panel provides information on calorie expenditure and endurance capacity.
Helsana Group offers a great training ground open to everyone in more than 120 locations. At each of these locations you will find at least two signposted routes for jogging, walking, hiking or just strolling. First opened in 2003, there are now more than 360 routes throughout Switzerland. They vary in length from 1 to 25 kilometres and are suitable for all levels of fitness. You can even combine most of the routes for a harder training route.
You can easily find a nearby trail no matter where you are to train whenever you want - at any time and in any season. Don't hesitate to try them out !